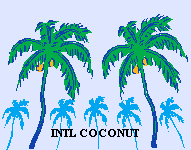 We would love to hear from you! Please provide us with your contact information below.
If you are interested in selling to us, we purchase many raw ingredients, cartons, plastics, and many other manufacturing related items. Please provide us with what you want to sell in the comments box.
Also, if you are looking for other bakery related ingredients, please let us know, and we will try to help you locate it through one of our distributors.
---
If you would like to contact Richard: richard@internationalcoconut.com
To contact sales please email: sales@internationalcoconut.com
For US Mail please use: P.O. Box 3326, Elizabeth, N.J. 07207-3326
Telephone: 908-289-1555
Fax: 908-289-1556
2023 INTERNATIONAL COCONUT CORPORATION - 225 WEST GRAND STREET (PO BOX 3326), ELIZABETH, NEW JERSEY 07207-3326 - (908) 289-1555 (908) 289-1556FAX